MagicBox New Logo Embraces Diversity and Inclusion
The COVID-19 pandemic changed the educational world on an unprecedented scale. But, unfortunately, it also revealed huge digital gaps and inequalities in access to education. 
In the face of these challenges, MagicBox realized the growing need for EdTech solutions to ensure diversity, equity, and inclusivity in education. We, therefore, focused our efforts on creating a healthy balance between access to multi-channel mechanisms in learning and offering educators the means to develop personalized educational materials for all kinds of learners.
While adapting to this new normal in the education industry, we found reasons to change our approach to offer continued support to enhance learning and teaching experiences.
The Need
Technology, as an enabler, can solve problems that come naturally to the current generation of students.
Even educators got comfortable using new EdTech tools, such as online assessments and grading, multimedia instruction, and data analytics to drive student engagement and retention. 
Our role in the education landscape as a powerful platform became even more critical to allow publishers and educators to craft solutions to individual student needs and develop learning materials to ensure maximum engagement.
We have always aimed to put the learners at the front and center of education delivery. Hence, the MagicBox team has reinforced its commitment to offering best-in-class digital learning experiences enabling digital equity, diversity, and inclusion in education. 
The New Focus
Our Logo
Our new logo, with its customized font and soft edges, reflects our humanistic approach to problem-solving, leveraging the latest technology. It perfectly represents our dedication to remote learning accessibility and social-emotional learning. In addition, we have carefully chosen a cutting-edge blend of hues that highlights our future-forward approach.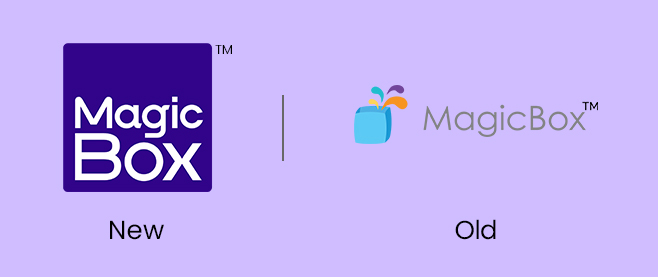 Our Mission
Our new tagline, Digital Learning for Everyone, keeps diversity and inclusion at the heart of everything we do at MagicBox, focusing on creating outcome-based learning experiences. 
The sudden transition to online learning may have seemed like a big challenge. But, the resolve of everyone involved in the industry to embrace the immense advantages of EdTech tools has been commendable. Therefore, we aim to support them with such efforts.
MagicBox™ has been at the forefront of enabling new pedagogical trends in education for a long time now. Our new makeover reaffirms our commitment to ensure digital learning for everyone and enable outcome-based learning experiences. Making a difference in the lives of learners is the most rewarding experience and what we strive for.