How Readymade Assessments are Powering Growth Stage EdTech Companies
EdTech has brought about a profound evolution in K-12 and higher ed pedagogy. But the challenge of aligning learning objectives, instructional strategies, and assessments still persists. 
Why Assessment Offerings Can Be Tricky
Online assessments have been challenging for both educators and learners. 
While it is easier to convert most learning resources to digital, assessments pose a bigger challenge. Among EdTech circles, it is well known that a good assessment solution requires a great amount of time, data, and dedicated resources. Despite the evolution of ICT for education, very little has changed in the area of assessments. That's why traditional assessment methods are still commonplace in both K-12 and higher education. 
EdTech companies are the best positioned to offer efficient digital assessment solutions for education. Unfortunately, if an EdTech start-up was to develop its own e-assessment tool, it might need to write off its earning profits for the next few years. 
Building your own assessment plugin or software is akin to spending a huge budget on reinventing the wheel. The key is to adopt a readymade solution that can be easily integrated into your existing ecosystem.  This helps overcome the multiple challenges that EdTech firms usually grapple with early on.
Challenges and Opportunities for EdTech Start-ups Today
With the recent slowdown in the economy, funding to edtech startups has been more cautious than in the last 2 years. Investors want to see quicker and bigger returns; while edtech founders look to maximize their offerings while keeping spends to a minimum.  Besides the operational problems of newly funded startups, some of the biggest challenges they need to overcome very early on are:
Differentiating in an intensely competitive market

Staying ahead of the curve in a rapidly evolving tech industry

Maximizing user activation and usage

Growing product adoption and retention rates

Churning user data into actionable insights

And doing all this on limited funds.
Every growth stage edtech company needs a powerful go-to-market strategy to capitalize on opportunities. But if you invest in building every single component, you lose out on these opportunities and may get left behind in the race. 
EdTech products require development time, software testing and debugging, load testing, and not to mention, compliance with State-laid norms. Once the solution is up and running, there are continuous upgrades and releases to keep the product up-to-date.
For many edtech founders, it might be a better solution to free up resources, both in terms of human capital and funds, and go in for a ready, pluggable assessment engine. Remember, schools and districts are typically bound by limited budgets. So, consider how many sales you'd need to make to recover the development and maintenance costs. That's why plug-and-play solutions, which can be easily white-labeled, are a better idea to propel business growth.
Quicker Go-to-Market with Readymade Assessment Solutions
Evaluation and feedback both are equally important to complete the learning cycle. So, when you offer schools comprehensive eLearning solutions, assessment modules should be an integral part of your offerings. 
However, developing such solutions in-house means hiring and paying for a team of technical experts, educational experts, and evaluators of assessments; which you can avoid using a plug-n-play assessment engine.
The image below illustrates the multiple benefits of including an assessment module within your existing offering: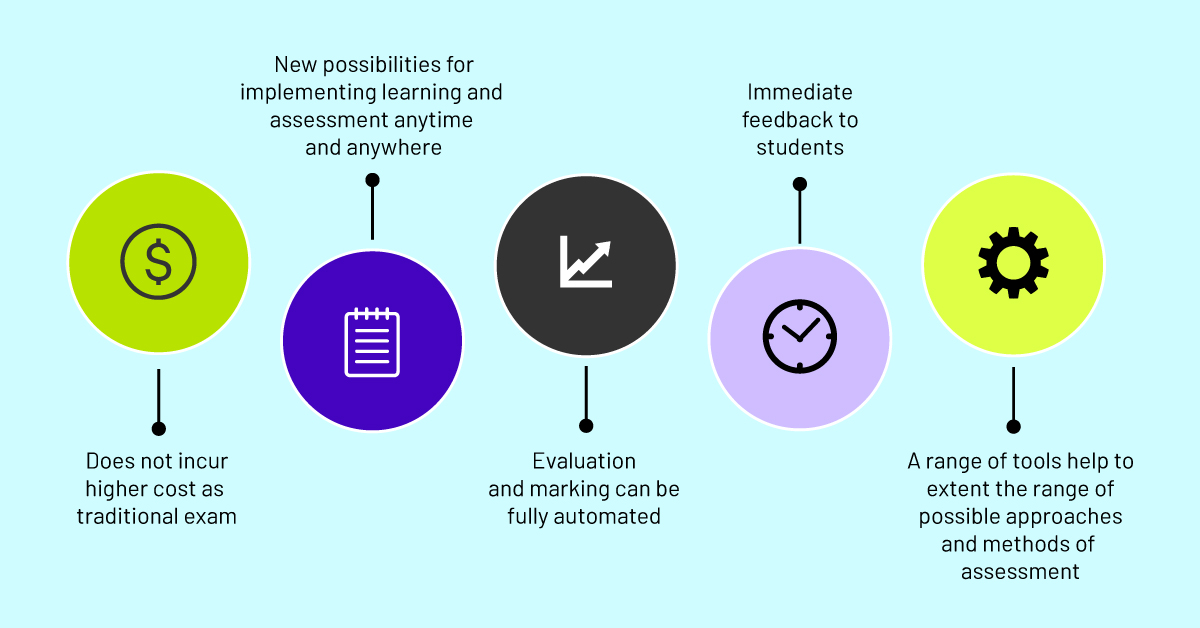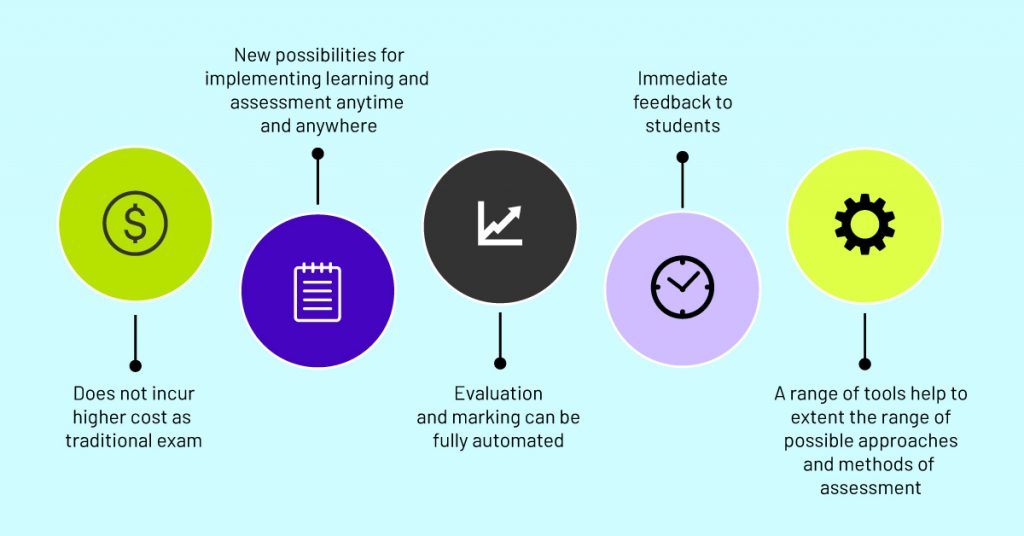 Image Source: TeSLA
What Features should you look for when seeking a solution partner for ready-made digital assessments? 
Compliant Question Banks
All you need to do is integrate an assessment engine into your existing platform. The software should be compliant with industry standards, such as LTI and QTI, so that question banks can be easily created, updated, modified, and deployed. This also means that the plug-and-play solution supports multiple question formats, including multiple-choice, fill-in-the-blanks, essay-type, and more. Plus, assessments can be made a part of each learning module to ensure formative evaluations that keep students engaged and offer insights into areas that need more attention. This way, you get to offer educators a means to help students improve academic outcomes.
Foster Accessibility and Inclusivity
Every student is different, as are their learning needs. You can help educational institutions meet their accessibility and inclusivity goals by offering an assessment tool that allows assistive technology integration, audio/video assessments, offline access with synchronization when the student's device is online the next time, support for multiple languages, and much more. In addition, collaboration tools can enable the administration of group assignments and assessments to promote peer learning and inclusivity.
Offer Standards-Based Assessments
Schools might adopt many different formative and adaptive assessments but they cannot completely ignore standards-based testing. A readymade assessment tool can ease this process. With the right assessment solution, you can empower institutions to test reasoning, critical thinking, interpersonal skills, and much more. You can also streamline standardized exams, such as the Next Generation Science Standards (NGSS), which is essential for STEM education.
Data-Driven Decision-Making
Huge datasets are created when educational institutions and students engage in online learning. The power of AI converts this data into insights that can be used by your EdTech firm and clients to make strategic decisions. Assessments also offer valuable metrics for educational institutions, teachers, students, and EdTech firms. With a powerful assessment engine, you can generate individual student, group, class, and institution-level reports.  Teachers can use these to tailor their teaching plans and create personalized learning paths for students. These reports can be viewed graphically for easy understanding and can also be downloaded.
Automate Scoring
With powerful integrations, such as with GradeCam and a machine learning-based evaluation matrix, you get to help teachers save time and effort while eliminating human errors and bias from grading assessments. Even descriptive, essay-type answers can be scored within minutes, freeing up educators' time and mind space for personalizing learning for their students. 
We're curious to know your thoughts on using plug-and-play components for a newly funded education technology solution. Write to us at info@getmagicbox.com. If you'd like to explore our assessment solutions and to see how it fits with yours, contact us to set up a demo. 
MagicBox™ is an award-winning EdTech solutions provider with a comprehensive online assessment module. It combines innovative assessment functionalities to enable detailed, formative, interactive, personalized assessments. The feedback sub-module is effective in providing detailed information about the learner.