Google Classroom + MagicBoxTM – A Complete Learning Solution
Google Classroom offers numerous benefits to both online facilitators and learners to communicate with each other. However, the question is how can we bring the best learning experience out of it?
Google Classroom and MagicBoxTM has been combined to provide a powerful tool for streamlining online collaboration among learners and providing best possible learning experience to learners.
MagicBoxTM can be used to distribute eBooks, Videos and Simulations, organize School, School District, Class, make announcements & assessments, and get Insights into student's performance.
MagicBoxTM recommends using Google Classroom for submission of any work assignment. This is to maintain a consistency of workflow as well as the system. Google Classroom allows students to submit any file type that are neatly organized in Google Drive. Using the secure sync, all the assignments and student's work are synced with MagicBoxTM automatically.
Below section describes the different use cases and their workflow (screen grabs) to leverage the combined features of both MagicBoxTM and Google Classroom in a school environment.
1.Classroom Instant Login using oAuth 2.0 flow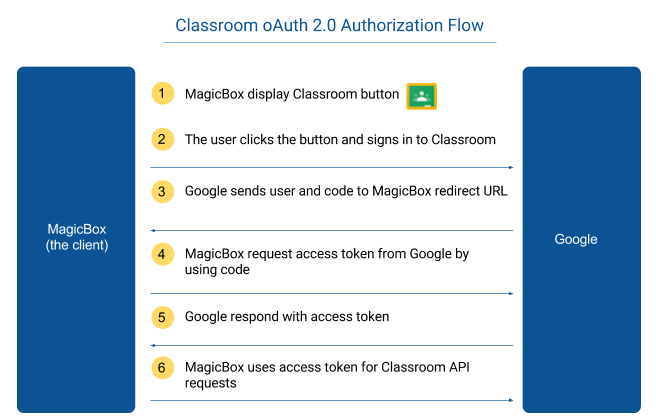 MagicBoxTM recently announced support for Google Instant Login to provide Single-Sign On (SSO) in Schools by authenticating teachers and students using OAuth 2.0/SAML 2.0 APIs. This allows users to easily Single Sign On to MagicBoxTM without entering separate credentials.

2. Assignments, Grade and Class Roster Secure Sync
MagicBoxTM can sync class rosters, teachers, assignments, and grades with Google Classroom in real time. Also, MagicBoxTM can post announcements to Classroom in real time and students receive notifications for all announcements and assignments.
Google Classroom helps teachers and students save time and collaborate with each other. Additionally, teachers create assignments directly from MagicBoxTM or within the eBook and provides many other cool features listed below.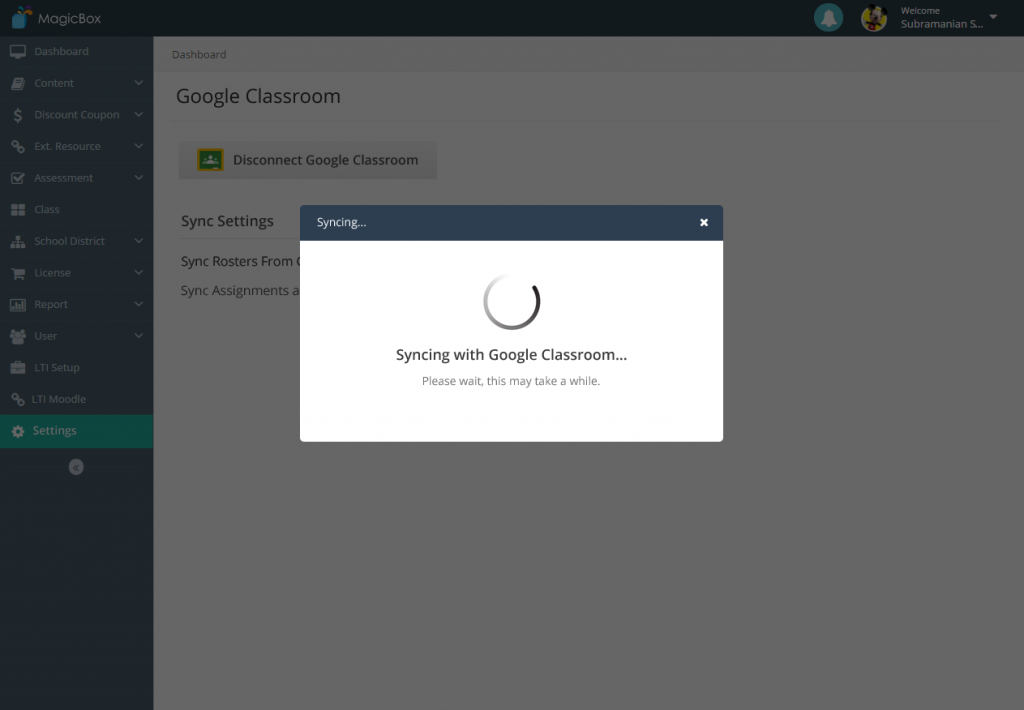 3. Sharing Contents – eBook, video or simulation to Classroom
Teacher can bulk assign eBooks, videos, games, simulations, etc. directly from MagicBoxTM to the Google Classroom. These assignations will appear in the Google Classroom streams of students.
Below is the snapshot to know how to share MagicBoxTM content with the Google Classroom.
For the teacher, Classroom allows setting up an environment where student assignments can be easily managed. Since it is from Google, it integrates very well with Google drive. Despite leading the K-12 segment, Google Classroom is still used as a secondary tool for higher education alongside an official Learning Management System.
There are several features that are not available with Google Classroom where MagicBoxTM can help.
Google Classroom does not handle content (Course, eBook, Simulations, etc) distribution.
Google Classroom does not have assessments and does not track students participation.
Google Classroom does not allow teachers to create content within the system. Instead, teachers link to content that they build in other places such as Google Docs.
MagicBoxTM is fully integrated with Google Classroom and this integration will streamline the process of syncing the roster from Google Classroom to MagicBoxTM.
Google Classroom provides easy access to eBooks served from MagicBoxTM with everything accessible on one platform thereby giving complete control over the digital classroom. This will allow teachers and students that are using Google Classroom at school, or have a Google Classroom account, to leverage various MagicBoxTM features.
MagicBoxTM and Google Classroom together can help K-12 as well as higher education domain by leveraging MagicBoxTM that provides additional features which compliment with those available in Google Classroom. Please refer to the MagicBoxTM feature set in the below diagram.