How Content Distribution Platforms Can Help You Scale Your Business Faster
Research shows that a shorter GTM cycle offers multiple benefits, including better market share, higher revenues, sales growth, and, most importantly, a competitive edge.  When you optimize your product development process to decrease time to market, you also gain the first-mover advantage. This means your product is available before your competitors, giving you the opportunity to have the lion's share of the market. A study by McKinsey and Co. found that a company can lose as much as 33% of after-tax profit for the next five years if a product enters the market six months late.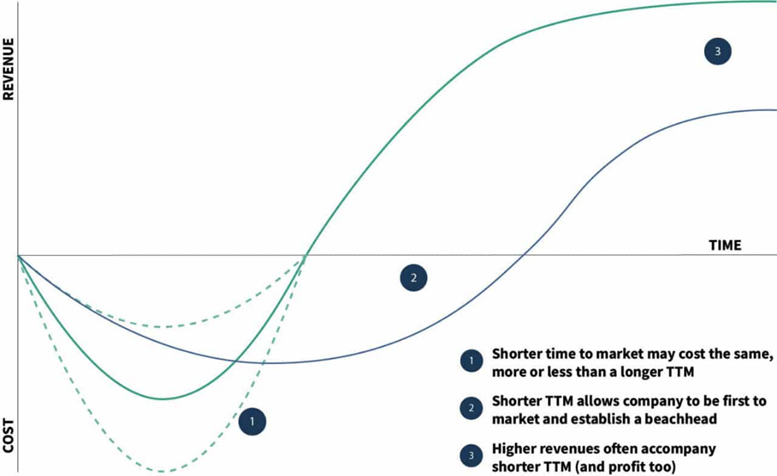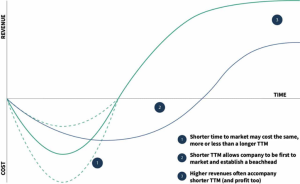 Image Source: TCGen
For educational publishers, a sure-shot way to shorten their time to market is by powering their product development with a next-gen, award-winning content authoring and distribution platform. This is especially true if the platform is highly customizable and flexible so that you can give your users a completely branded experience with an incredibly user-friendly interface. Also, ensure that the platform is compatible with industry standards, such as LTI, QTI, SCORM, etc., to ensure seamless interoperability. Here's a closer look at how you can shorten your go-to-market cycle with a robust digital content distribution platform.
Take the Digital Route for a Shorter GTM Cycle
With a powerful content authoring platform, you save on resources, effort, and time to produce diverse content types. An authoring engine is armed with rich functionalities, such as inbuilt templates and themes that can help to quickly and effortlessly create fully branded titles. The software also ensures that your content complies with industry standards and federal regulations, FERPA, COPPA, and GDPR, to increase the chances of state adoptions.
Legacy content can also be converted to IDPF-compliant, ePub3 format with just a click. At the same time, publishers can support a wide range of document types, including MS Word, Excel, PowerPoint, and PDF. Multimedia elements like audio, video, and gaming can be easily integrated to enhance user engagement and promote sales.
Such an authoring engine offers a step-by-step, streamlined process for creating, modifying, and updating courses. It can help you cut time to market by up to a whopping 40% while also saving on the need to maintain an in-house development team.
 An All-In-One Platform Can Help
A single, SaaS-based, cloud-hosted mobile learning platform can help publishers provide branded web and mobile apps with easy third-party integrations and single-sign-on (SSO) facilities to ease education delivery and learning. In addition, a platform that comes preloaded with a strong analytics engine can help you track content consumption patterns to make data-driven business decisions. It can also help you provide custom analytics reports for schools, school districts, teachers, students, and parents. This can help them track individual student performance or group performance and measure academic outcomes.
With a robust Digital Rights Management solution pre-built into the all-in-one platform, you can support multiple subscription and licensing models with easy-to-share access codes. In addition, effective security protocols, such as encryption using AES-256 and protection against screen-grabbing and copying, means that you can get the best monetization without losing revenue to online piracy. Such protection is indispensable given that US publishers lose $300 million annually to online piracy.
Digital platforms can also contribute to achieving the Sustainable Development Goal 4 or SDG 4 goal to ensure "inclusive and equitable quality education and promote lifelong learning opportunities for all" by 2030. This can be achieved by offering multilingual support and compliance with the WCAG standard. Keeping diversity of languages and cultures in mind via a white-labeled SaaS platform can also help you expand the target market to new regions.
The best digital assessment platforms must support multiple rostering systems and integrations like ClassLink, Clever, OneRoster, and Google Classroom. This is necessary since most schools already have a Learning Management System (LMS) and SIS (Student Information System) in place. A content authoring and distribution platform that easily integrates with the school's existing digital ecosystem and is compatible across multiple devices and operating systems eliminates the need for major installation. This ensures quick and effortless deployment of your offerings without the need for intense training to use the tools. This way, you can provide a friction-free experience while significantly reducing the GTM cycle.
Bringing your content to the market faster enables you to stay at the forefront of your customers' minds while building your brand reputation.
Conclusion
As the EdTech industry prepares to embrace AR-based experiential learning and DEI-enabled content, digital publishing platforms must evolve to address and accommodate the need for modular, customizable, and open-integration solutions. The global digital publishing market generated over $13.4 billion in 2022 alone and is poised to grow to $15.74 billion in 2023. The US contributes 33.2% of the market, accounting for more than $4.47 billion in revenue.
Using a comprehensive digital content distribution platform can accelerate time to market and can be a key driver of change for the publishing industry. Additionally, API-based integrations with assessment, reporting, evaluation, and rostering modules can give a competitive advantage to your publishing house. Get in touch with us to learn how our solutions can shorten your go-to-market cycle.