Create Flexibility of Learning and Teaching with Online Publishing
Educational institutes that have taken the digital route are seeing a reduction in manual effort, better governance, and sustainable decision-making. By leveraging automated processes and data science, they have enabled multidisciplinary and student-centric learning. Experts believe that delivering tailor-made and relevant educational content can significantly impact learning outcomes and increase learner engagement. Digital learning tools also let students take a more self-directed approach to learn and sharpen their analytical reasoning and critical thinking skills.
Additionally, institutes are also improving the way students absorb and interact. Strategically planned use of technology can result in higher productivity in the classroom by deriving favorable learning outcomes. Adopting a responsive, intuitive and intelligent digital platform that easily integrates with your LMS can further strengthen your position in the e-Learning ecosystem.
The shift to digital teaching does not have to be overwhelming because –
More than 90% of students use a smart device to derive educational benefits like accessing online resources outside the classroom, setting reminders for test dates, scanning homework, and assignments, etc. With the widespread use of smart devices, teachers will find it simple to mainstream digital learning.
Digital learning allows for effortless interaction with teachers and peers even outside the classroom. Ability to discuss questions over Facetime or Skype makes the learning process more exciting and fun.
Technology has made it possible to transcend geographical barriers and access information at any time from anywhere. Greater access to online resources, white papers, academic articles can keep teachers and students abreast of the latest developments in their field of study/interest.
However, to maximize the benefits of digital learning, it is essential to integrate your LMS with a responsive and secure digital platform that allows you to create, publish and deliver personalized content while safeguarding your intellectual property rights. With One-Click Publishing, Powerful Analytics Dashboard and Digital Rights Management, MagicBox is a unique platform that incorporates the latest technologies to create favorable learning environments.
How does digital publishing help teachers?
1.Helps teachers assess gaps and identify learning needs
Multimodal learning is essential to engage students with varying preferences. One of the greatest benefits of digital learning is the ability to help teachers and trainers use scientific tools to assess learning gaps and identify individual learning needs.
Availability of modern online tools and mobile technology has made life easier for students and teachers. Digital assessment tools can be used to provide fair and fast assessments. Students and teachers can track each other's activities. This way, students get replies to their own queries and concerns without having to interrupt others. Several tools are available that can help teachers to study how students are reacting to the content and to check how learners are taking decisions. All this makes the progress traceable and useful.
As opposed to traditional teaching methods, digital learning extends greater flexibility to teachers to alter teaching methods to align students with the learning styles.
2.Simulating learning environments conducive to immersive and autonomous learning
By simulating real-life scenarios through virtual labs, teachers can efficiently explain complicated bits of information. Magic EdTech provides similar products to educators that help augment the learning experience with the help of photorealism and animations.
Since audio-visual stimulation helps students retain knowledge and improves information recall, editorial teams can envision content using multisensory inputs to reinforce principles and enhance memory retention. They are able to simplify understanding of STEM subjects with the help of virtual environments that allow students to understand better and apply theoretical knowledge.
3.Devising effective teaching strategies through data analytics
e-Learning tools and technologies do a lot more than creating personalized learning environments for your students. Their ability to capture meaningful data allows educators to assess student behavior, learning patterns, progress curves, etc. which can be used to improve the learning process continually. Incorporating the principles of data science in digital learning can help teachers identify gaps early in the process and direct efforts where needed. For content creators, It is helpful in analyzing time spent on resources, to know what resources are preferred among students. It can help guide future investments.

4.Helps to improve collaboration and make students independent learners
Digitization of the classroom adds a new dimension to learning and paves the way for autonomous learning by enabling students to learn at their preferred pace, access essential resources from anywhere, and generate practice tests for self-evaluation. With this, teachers can assume the role of mentors to assess and guide the learners much more efficiently. This facilitates collaboration among students and teachers
MagicBox helps teachers share additional content resources with students with just a click that can be accessed on a wide range of devices and operating systems. It has an easy-to-use user interface that facilitates content sharing in only a few steps.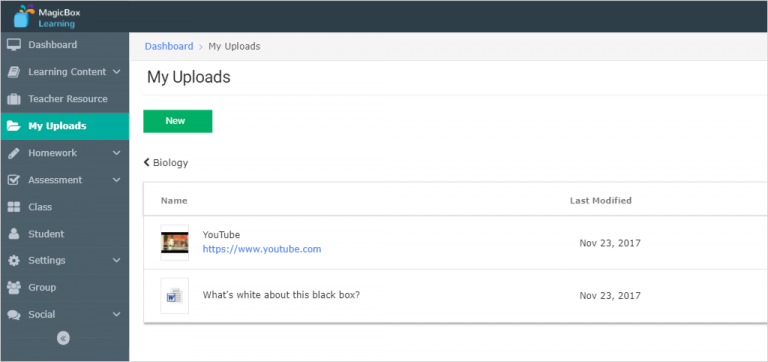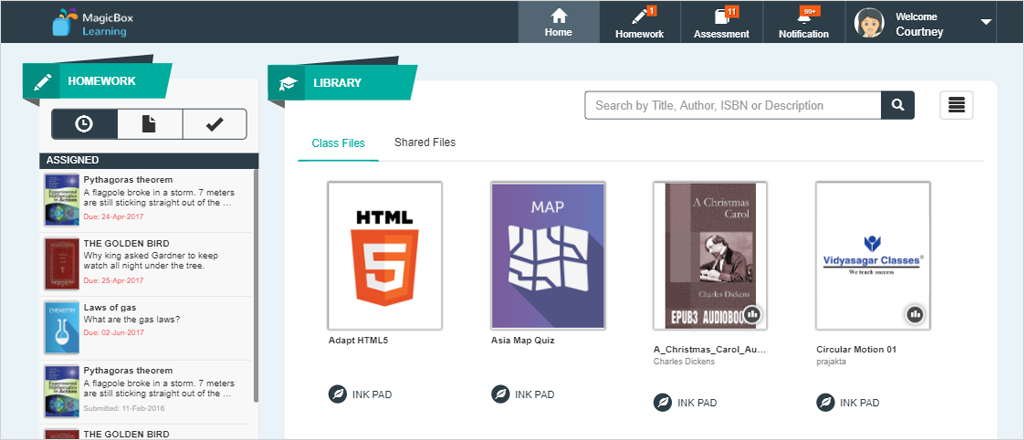 HOTS (High-order thinking skills) come into play with the digitization of the classroom because of the fluid but collaborative learning environment it offers. Students enjoy freedom to learn and experiment. Technology adds a new dimension to learning and paves the way for autonomous learning. Students can learn at their preferred pace, access essential resources from anywhere, and generate practice tests for self-evaluation.
5.Improves focus on teaching and mentoring
e-Learning has led to effective classroom teaching by putting the instructor's resources in one place, auto-grading assignments, monitoring students' progress and generating performance metrics. This allows teachers to identify gaps better and fine-tune teaching methods to meet learner needs. By delegating routine tasks like taking attendance, sharing homework and marking assignments, teachers can utilize their time to bring something unique and special to the classroom.
It is imperative for educational institutions and instructors to invest in the infrastructure and planning required to harness the potential of digital learning, which is rapidly outpacing traditional teaching.
The combined power of online publishing and data analytics offers an in-depth understanding of learner activity, which can be leveraged to achieve educational outcomes and increase productivity. The integration of data science with technological platforms has opened up a broad avenue of possibilities to introduce innovation in the digital learning sphere. While online publishing is transforming how educational content is delivered and received, analytical strategies will support educators in reshaping the digital education culture by aiding effective decision-making.
Your Digital transformation journey can be made easier with Leaning experience platforms like MagicBox. MagicBox assists Education publishers to create interactive and engaging content modules with a single click that can be shared with students and accessed on a wide range of devices and operating systems.
To know more, we will be happy to get into a discussion with you. Please contact us at https://www.getmagicbox.com/contact-us/