MagicBox™ has been recognized as the Best Student Personalization Solution by the EdTech Breakthrough Awards 2021. This is another validation of the hard work and dedication of the Magic team in continuously innovating on the digital learning platform and arming it with cutting edge tools to ease education.
We have always been committed to providing all participants in the education sector, including publishers, educators, educational institutions and students, with just the right tools to optimize education delivery and learning.
Our commitment was put to the test with the outbreak of the COVID-19 pandemic, when schools across the world moved online en-masse. The team at MagicBox was able to move with agility to ensure scalable and flexible educational solutions that could enable schools and educators to ensure seamless remote learning.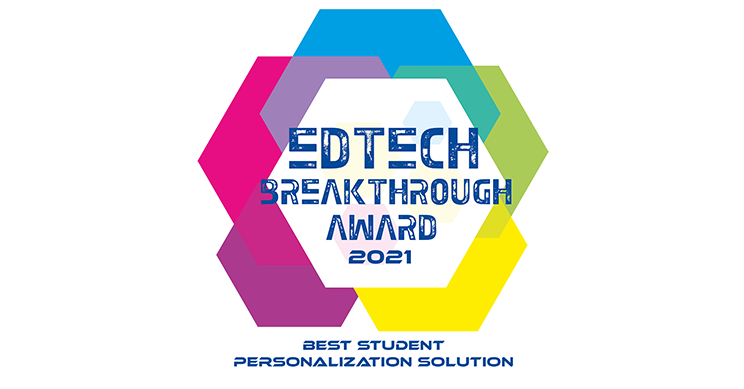 Best Student Personalization Solution
Our wide experience and market research made it very clear that for students to make the most of education, they needed a robust personalized learning platform. For this, we loaded MagicBox™ with powerful features that allow students to access education anytime, anywhere and on any device of their choice. Students can learn at their own pace, choosing content formats that best suit their learning style.
With multi-device compatibility and an online/offline eReader, we also ensure that students can access education even in the absence of internet connectivity or a laptop. This helps enhance inclusivity in education. The eReader also includes additional personalization features, such as annotations, highlighting, bookmarking, etc.
AI-powered personal learning assistant allows students to access support 24/7, even in the absence of a teacher. Discovery of relevant and personalized content is also eased with the AI-powered bot. The powerful assessments engine allows educators to customize assessments, while students can test their learning at their own pace. The analytics engine offers educators and students deep insights into learning progress, allowing teachers to offer individualized support and plan personalized learning paths.
"It is a great honor to be recognized among some of the biggest names in the education sector. EdTech Breakthrough Awards is one of the most recognized programs for excellence in education. We would like to share this award with our entire team, who have worked tirelessly even through the most difficult times in recent history." stated Harish Agrawal, Senior vice president and Global head of products, Magic EdTech.
Another award only fuels our motivation to continue to innovate with the MagicBox™ platform, taking education into the future making a difference to the learner's lives.
We would also like to take this opportunity to thank all our clients, who have helped us continue to grow and improve by setting us challenges to overcome. We believe we succeed only when our customers succeed.
Finally, we would like to congratulate all the nominees and winners of Edtech Breakthrough awards: https://edtechbreakthrough.com/2021-winners/