MagicBox™, a cloud-based, end-to-end, remote learning and publishing platform by Magic Software, has won the Award for Excellence as the Best Digital Learning Platform APEX 2020. The APEX Awards, sponsored by Communications Concepts, Inc., is an annual event, in its 32nd year. It recognizes excellence in publishing by professional communicators.
The APEX Awards are bestowed for excellence in editorial content, graphic design, and overall communications excellence. In the 32nd edition of these prestigious annual awards, there were close to 1,200 entries across the various categories and the competition was extremely intense.
MagicBox™ (www.getmagicbox.com), considered a leader in the digital content and remote learning publishing space, delivering state-of-the-art learning experiences to almost four million users globally, won the award for excellence in the category of Electronic Media – Education and Training, as the Best Digital Learning Platform. This has come close on the heels of the platform winning the Gold Honor at the IMS Global Learning Impact Awards 2020 earlier this year.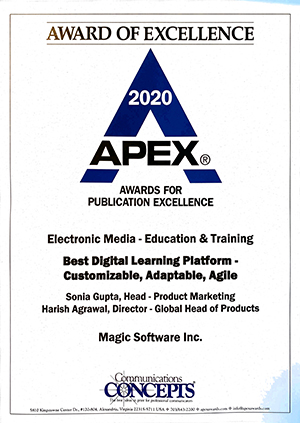 Features that Helped MagicBox™ Win
The key features that bagged the win for the platform were its immense customizability, adaptability, and agility in responding to the specific needs of educational publishers, institutions, and users. Through these features, MagicBox™ enables the seamless delivery of personalized learning. In addition, with the ability to easily integrate multimedia, interactive, and gamification elements into the learning content, education, and training is made much more engaging and effective. 
The platform integrates with standard LMSes, such as Moodle, Blackboard, D2L, Canvas, and Schoology, ensuring that educational institutions do not need to make vast changes to their existing ecosystem to deliver the best learning experiences. In addition, MagicBox™ eases the creation and deployment of standard, formative, and adaptive assessments across multiple languages and formats, including video assessments for real-time skills demonstration.
"Winning the Award for Excellence at APEX 2020 has fueled the fire within us to provide the best-in-class EdTech tools for accessible, inclusive, and engaging learning across the world. We take great pride in constantly adding features to ease the process of publishing educational content, as well as using the platform for learning," stated Harish Agarwal, Director & Global Head of Products, Magic EdTech.