How do I Search & View Content?
Follow the steps listed below to search and view content:
Log in as a Teacher.
Click the Learning Content menu in the left panel.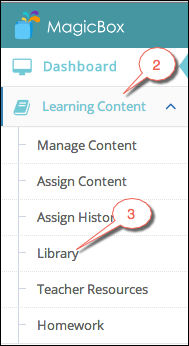 Click the Library sub-menu. You are at the Library
screen:
Do the following to search content:

Type in a few characters from the name of the content you are
looking for in the Search box.
Click the 
button. All the matching content is listed on the screen.

Identify the content you are looking for.
Click on the image of the content. All content opens in its respective
player or reader.